Current Jeep Renegade Lease Deals And Finance Offers In St. Peters, MO


Shop And Price Your New Jeep Renegade Today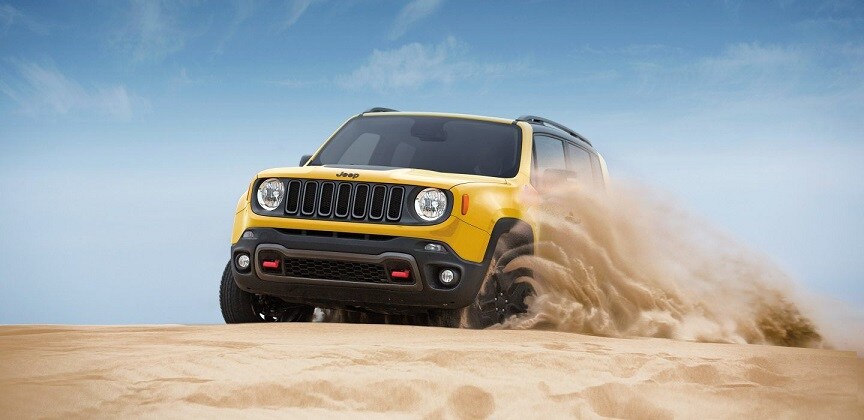 Everyone in St. Peters can ride in style with a new Jeep Renegade Sport, Latitude, Upland, Altitude, Limited, or Trailhawk. Fueled by a 2.4L Inline 4-Cylinder Engine that offers 180 horsepower with a 9-speed automatic transmission, the new 2020 Renegade can get up to 29 mpg on the highway with ease. With just one drive, you'll see that this vehicle serves a thrilling adventure with excellent traction and maneuverability. This ideal blend bold, rugged, refinement, performance efficiency, and utility is a wise choice for anyone in St. Peters, O'Fallon, Wentzville, St. Charles, and St. Louis.

The Jeep Renegade pleases all of your senses with it's an exciting range of fabrics, colors, seatings options, and technology. You can choose from Mckinley Leather Trim seats, Deluxe Cloth Seats, and Washington Cloth Seats. You'll also be pleased to know that the new Renegade Jeep 2020 model comes standard with 60/40 split-folding second-row seats, a built-in cargo floor storage area, and hidden footwell pockets for extra storage. A
dditional Jeep Wrangler interior features include a 6-speaker audio system, Hands-Free Bluetooth Technology, steering wheel mounted audio controls, and a delightful manual air conditioning system. As a further convenience, the new 2020 Jeep Renegade also offers a 6-way adjustable driver seat and a 4-way adjustable front-row passenger seat. Add in the all-new cruise control system, and you've got everything you need right where you want it. 
We know you'll enjoy driving a brand new 2020 Jeep Renegade in St. Peter Mo. And we can prove it. Visit us today and schedule a free test drive. We are located at 4951 Veterans Memorial Parkway St. Peters, MO 63376-1652.
For drivers interested in scheduling a free test drive online, fill out the free online form on this page. Once you complete the form you will also receive an exclusive Jeep Renegade lease or finance deal. And don't worry. There are no risks or obligations-just an opportunity to save big on the best SUV for you. 
Make an appointment >>

Jeep Renegade Model Trims

Return To The Top
2020 Jeep Renegade Mid Rivers - Exterior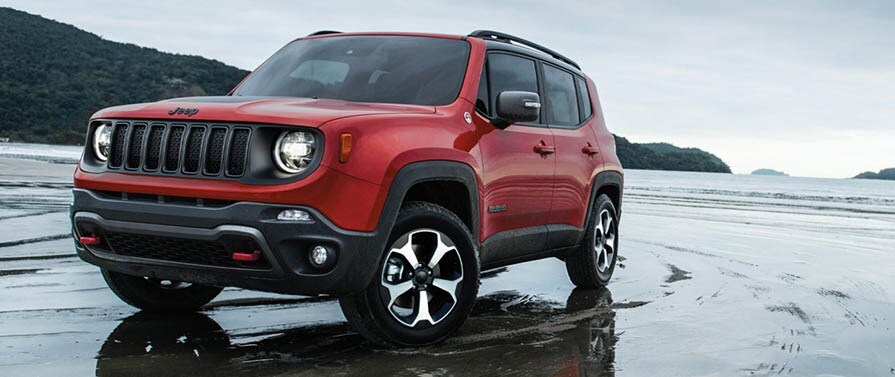 The Jeep Renegade Is The World Most Adventurous Compact SUV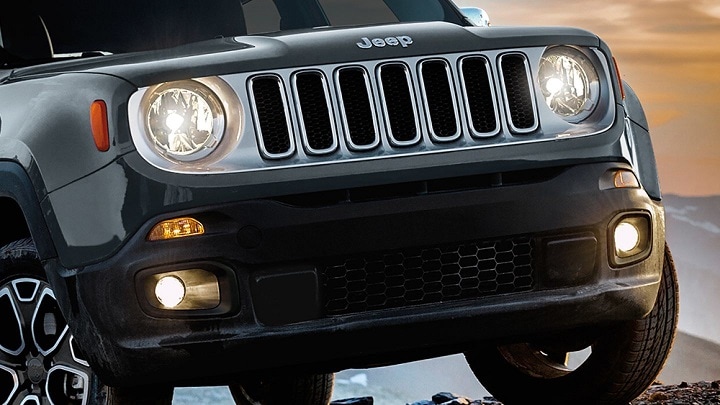 Jeep Renegade Exterior

The new 2020 Jeep Renegade is a thrilling ,adventure-seeking SUV ,with an epic exterior design. Driven by excitement,  this vehicle is stacked with brilliant technology.  The Jeep SUV design  has never been more exhilarating.  Forged from years of refinement, nothing  compares to the unique style and and design of the new Jeep Renegade. Dressed with 17-inch rims wrapped in all season tires, this SUV does more than drive attention. Supplemented with ultra-bright Halogen Lamps, distinct Incandescent taillights,  and unique fog lights, this vehicle paves the way to a brighter future. You are also going to love the acoustically sound solar control tinted glass.

Combined with a rear window defroster, a capless fuel fill , and a built in tire service kit, this vehicle gives you everything you need to succeed. If that's not enough, this sports utility vehicle also comes standard with a distinct sport badge, monotone paint, and a lower body side cladding, and  adjustable mirrors.  Trust us! Once you see the new  2020 Jeep Renegade up close, you won't ever want to look away.  But don't just take our word for it. Come see for yourself.

Return To The Top
2020 Jeep Renegade Mid Rivers- Performance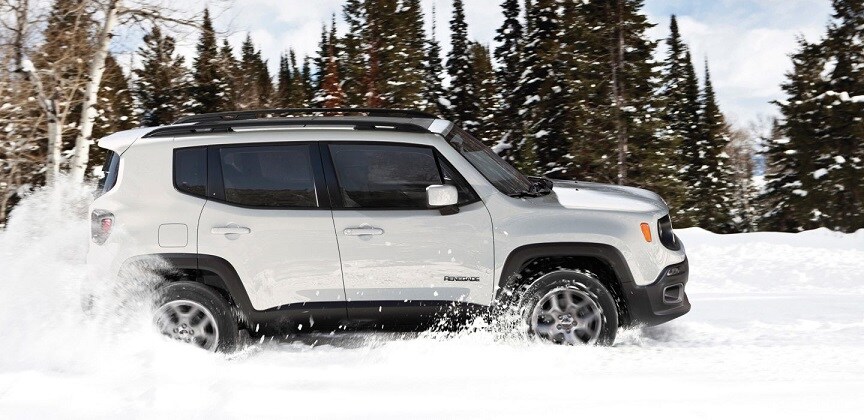 Hit The Road With A New Jeep Renegade For Sale Near Mid Rivers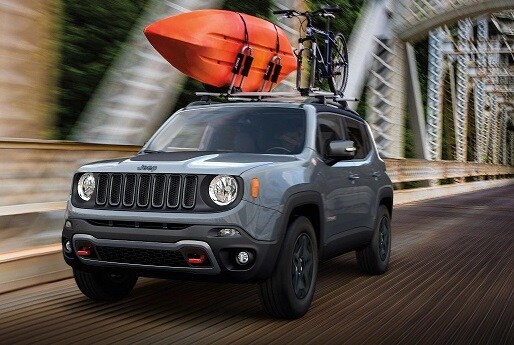 Jeep Renegade Performance

When it comes down to performance the new Jeep Renegade is packed with non-stop excitement. This vehicle will take you further than you have ever been in a new  SUV.  Infused with a 1.4L Multi-air Turbocharged engine, this vehicle pushes out 160 horsepower and 184 lb-ft of Torque.  Paired with a 6-speed automatic transmission, gives you more miles  per gallon than anywhere else. As a result, this SUV helps you save a ton of money of fuel. Can you imagine how much more  bang you could get for your buck if you started driving a new Jeep Renegade today?

And, that's just the beginning! This vehicle  also takes complete control of the road. Controlled by a front wheel driveline configuration, and electronic power steering, this SUV was designed to enhance your performance. At the same time, give you more traction. Not  even mother nature can stop this sports utility vehicle. Come experience the all new 2020 Jeep Renegade today.

<
Return To The Top
Mid Rivers Jeep Renegade Interior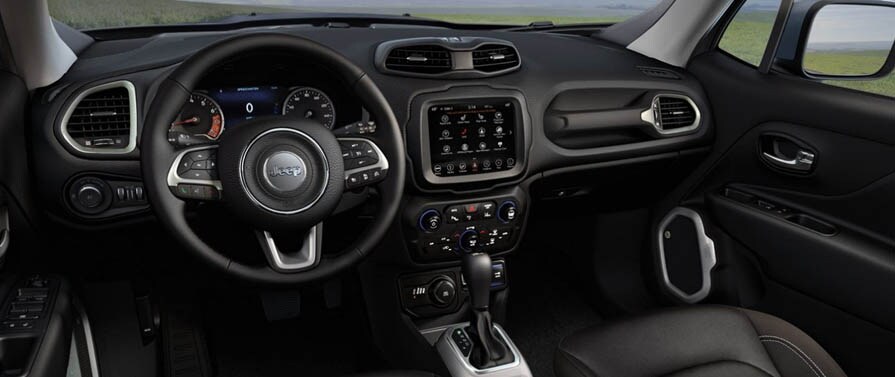 The Jeep Renegade Gives You More Room And Versatility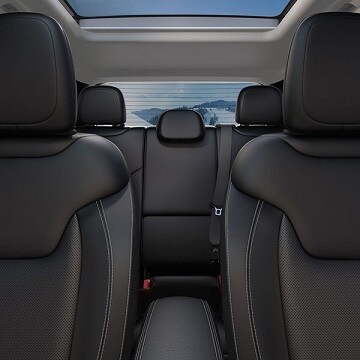 Jeep Renegade Interior Features

If you're like most SUV drivers, you need a crossover SUV that knows how to make more room for more adventure. You need a new Jeep Renegade for sale near Mid Rivers. This gives you all the room in the world. And  it also comes standard with 60/40 split folding second row seats. You never have to worry about leaving anything behind  again. This extraordinary sports utility vehicle makes it easier to travel comfortable. With over 100 cubic-feet of passenger  space, furnished with  plush cloth layered 5-passenger seating, and adjustable front row seats, this vehicle take your breath way. It has everything you would expect to find in a new luxury SUV, but the price tag. In essence, this vehicle gives you more for less. And it keeps you moving forward with today's most advanced technology. That's right! This Jeep  model comes standard with:

5-inch color touchscreen display

6-Speaker Audio System
Hands-Free Bluetooth Technology

12 Volt Auxiliary Power Outlet

Cluster 3.5 Inch TFT Monochrome Display

Electronic Vehicle Information Center

Power Windows with One Touch Features

Power Door Locks

Steering Wheel Mounted Audio Controls

Air Conditioning

Return To The Top
Mid Rivers Jeep Renegade Safety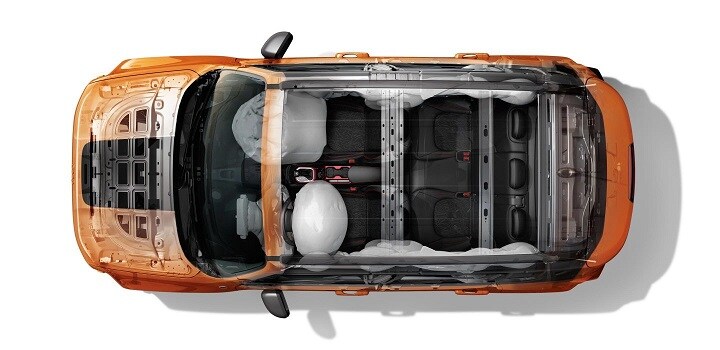 The Jeep Renegade Gives You More Room And Versatility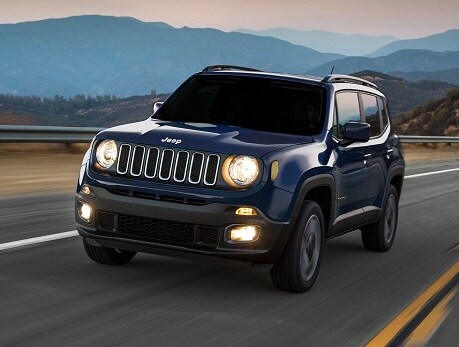 Jeep Renegade Safety Features

Take on the world with the all new Mid Rivers Jeep Renegade. This compact sports utility vehicle was designed go up against anything. It's one of the most rugged crossover SUVs. Built with a high-strength steel reinforced structure,  this automobile deflects high-impact contact. It's a rugged SUV with special features to protect you from whatever life throws at you. It's built and designed to give you more confidence on and off the road. Trail rated test have proven that this vehicle can sustain twice as much damage as your average crossover SUV. And, it's smart enough to help you stop accidents before they even happen. All in all,  this Jeep model is the ultimate family SUV.  If you want  see all of the Jeep Renegade's safety features, take a look below:

Advanced Multistage Front Airbags

Anti-Lock 4-Wheel Disc Brakes

Driver Inflatable Knee Bolster Air Bag

Dual Note Electric Horns

Electric Park Brake

Electric Power Steering

Electronic Roll Mitigation

Electonic Stability Control

Front Passenger Seatbelt Alert

LATCH Ready Child Seat Anchor System

Locking Glove Box

Occupant Detection System

Panic Brake Assist

Parkview Rear Back Up Camera

Speed Sensitive Power Locks

Tire Pressure Monitoring System

Return To The Top
Mid Rivers Jeep Renegade Warranty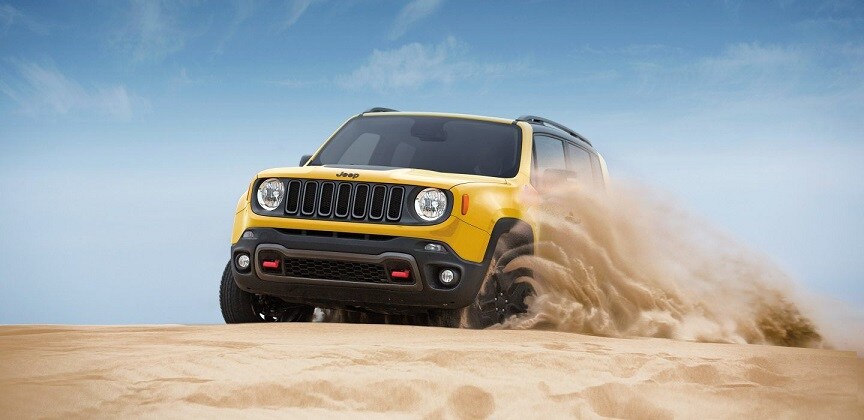 Stay Protected With The Jeep Renegade Warranty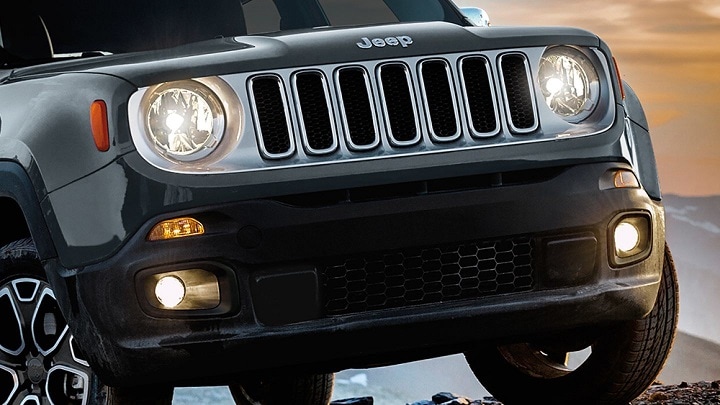 Jeep Renegade Warranty Features

When it comes down to reliability , everyone wants a great SUV  with great long lasting performance.  That's why the new Mid Rivers Jeep Renegade goes above and beyond to give you the highest quality features for the best quality price. Believe it or not, Jeep is one of the most trusted SUV brands. And for good reason. This automobile has held the confidence of families for years. And it continues to keep you moving forward with the ultimate combination of advanced features. Plus it has been rigorously inspected to ensure your confidence and peace of mind. On top of that, this vehicle also comes standard with a powerful warranty:

60,000-mile /60 month limited time (whichever comes first) Powertrain Warranty

36,000 mile/ 36-month  limited time (whichever comes first) Basic Manufacturer Warranty

That's enough   coverage to help you save a ton of money on unexpected maintenance fees. And, it gives you more freedom to get up and go as you please. How can you beat that. It's win-win for everyone. Can you really afford not to save money on a new Jeep Renegade for sale near you? Give yourself the best SUV for you. Start saving money today.

Return To The Top
Mid Rivers Jeep Renegade Test Drive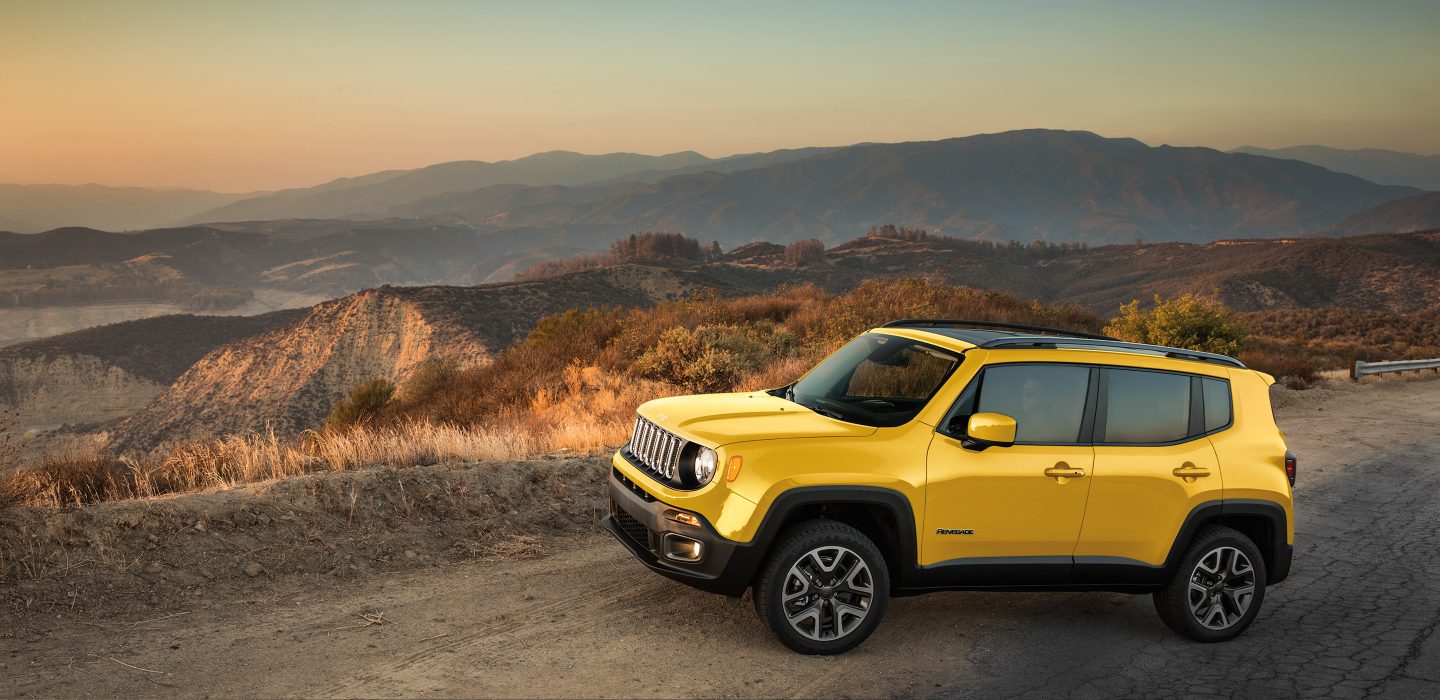 Schedule Your Free Test Drive Today



Heard enough! Schedule Your Free Test Drive Today and get the ultimate Jeep Renegade Deal
If you want the amazing experience of taking the new 2020 Mid Rivers Jeep Renegade for a free test drive, fill out the free online form above. It's quick. It's easy. And it's absolutely FREE! Plus, there are no obligations. All you have to worry about is signing up before it's to late. Give yourself a chance to experience the crossover SUV that you've  always wanted.  Come discover what it feels like to get more for less. Take your adventure even further with the ultimate fuel economy.  Jump inside of a new Jeep Renegade today.

If you act now, you can be one of the first few people to get an incredible Jeep Renegade deal. But, you must hurry. This vehicle is only here for  a limited time. And we don't want you to miss your chance to experience it today. So, what are you waiting for?

Fill out the free online form above.


 

Jeep Renegade  Specs
Vehicle Type: front-engine, rear/all-wheel drive, 5-passenger, 4-door Compact SUV

Engine Type:1.4-Liter I4 MultiAir® Turbo Engine, Direct Fuel Injection

Displacement: 220 cu in, 3605 cc
Power: 160 hp
Torque : 184 l

Transmission: 6-Speed Manual Transmission

Driveline : Front Wheel Drive

Dimensions:

Wheelbase: 101.2 in
Length: 166.4 in
Width : 79.6 inches
Passenger Volume : 118.6 cu ft
Cargo  Volume : 50.8 cu ft


Impressive fuel economy