Maintaining Your Mid Rivers Jeep Wrangler
Your new Mid Rivers Jeep Wrangler is the direct descendant of the vehicle that helped win wars, rescue survivors, climb mountains and ford streams. It's also good for a day at the beach and a run to the grocery store.  Available in a variety of flavors, your Mid-Rivers Jeep Wrangler is powered by the iconic 3.6-liter Pentastar V6 which is known as one of the most reliable engines in the industry. But in order for it to remain reliable, it needs to be properly maintained. Your Mid-Rivers Jeep dealer has the following information to help you achieve those goals and pursue those adventures!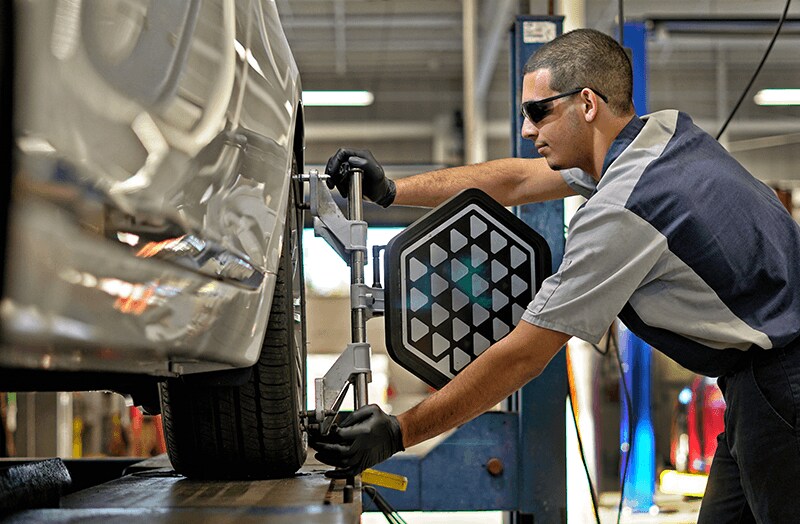 All-Wheel-Alignment: As agile as your Jeep Wrangler is, all that bumping around could cause it to fall out of alignment. Un-checked, and it could result in excessive tire wear, not to mention a desire to drift left or right without even trying. It could have been as simple as hitting a rock or small bolder, or as challenging as hard bounce but chances are since off-roading is not an exact science there is the chance for an unanticipated bounce, shunt or knock. But don't sweat the details because  Mid Rivers' CDJR is ready to get you realigned in no time. Your Jeep, service advisor suggests having your Wrangler realigned every 12-15,000 miles, or sooner if you tend to enjoy your Jeep extra hard!
Tire Rotation: Somewhat related to alignment on your Jeep Wrangler, rotation helps to equalize wear of the tires at all four corners of your Mid Rivers Wrangler. The result is all four get similar wear. The front tires get the bulk of it by the stress added from the weight of the engine. Add in underinflation, and those tires can wear down twice as fast. Regular rotation will allow equal wear and long life from your set of tires. For best results consult with your Mid Rivers CDJR service advisor who will rotate and align the tires of your Jeep Wrangler at the same time.