Maintaining Your Mid Rivers Jeep Grand Cherokee.
Your new Mid Rivers Jeep Grand Cherokee is a regular carry-all that can take your family, haul your boat, and provide comfort for a cross country trip. It's almost the "Swiss Army Knife of Jeeps,"  Available with a variety of motivations ranging from a 3.6-liter Pentastar V6, 3.0-liter Diesel, 5.7-liter Hemi, 6.4-liter Hemi and the 6.2-liter Supercharged Hemi, which is one of the most powerful engines (707-HP) in the business. All are extremely reliable in their own right, but it does require proper maintenance as scheduled by its Jeep Grand Cherokee Owner's Manuals. Take advantage of Mopar-approved Oils, Filters and supplies to keep your Jeep Grand Cherokee running for years of reliable service.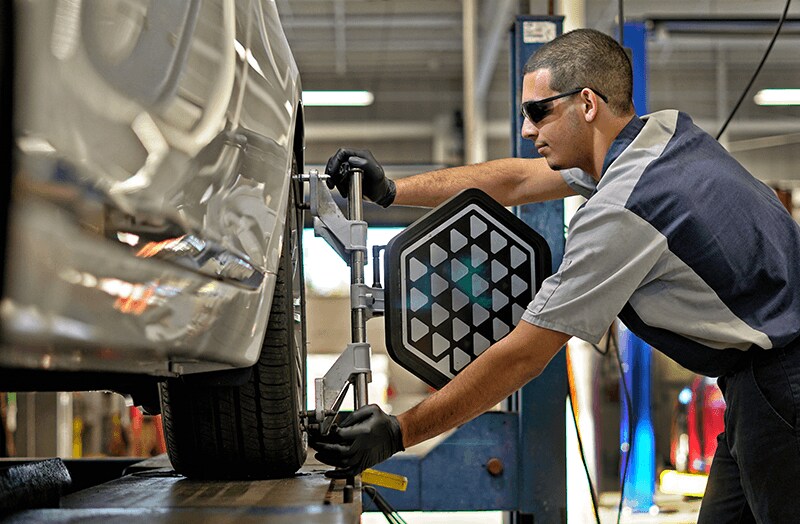 Wheel Alignment: Does it seem your Jeep Grand Cherokee wants to go south as you are trying to steer it north? That's a clue that it might need an alignment. Seriously, it will be more subtle than that but you may notice a slight drift left or right while driving straight. Excessive tire wear is just one of the symptoms that will crop up, and be another clue that it's time for a fix. Your Jeep Owner's Manual and your Service Advisor can help get you on an alignment schedule that will have you driving straight and true in no time.
 Rotate those tires: Best when completed at the same time as an alignment, tire rotation moves the tires around to all four corners of your vehicle to make sure they all have a chance to handle the loads from all angles. Done properly, it will make sure you receive the longest possible life from your tires. Best results are possible by consulting your Mid Rivers CDJR service advisor who will rotate and align the tires of your Jeep Grand Cherokee at the same time. Your Grand Cherokee's Owner's Manual will have more information.